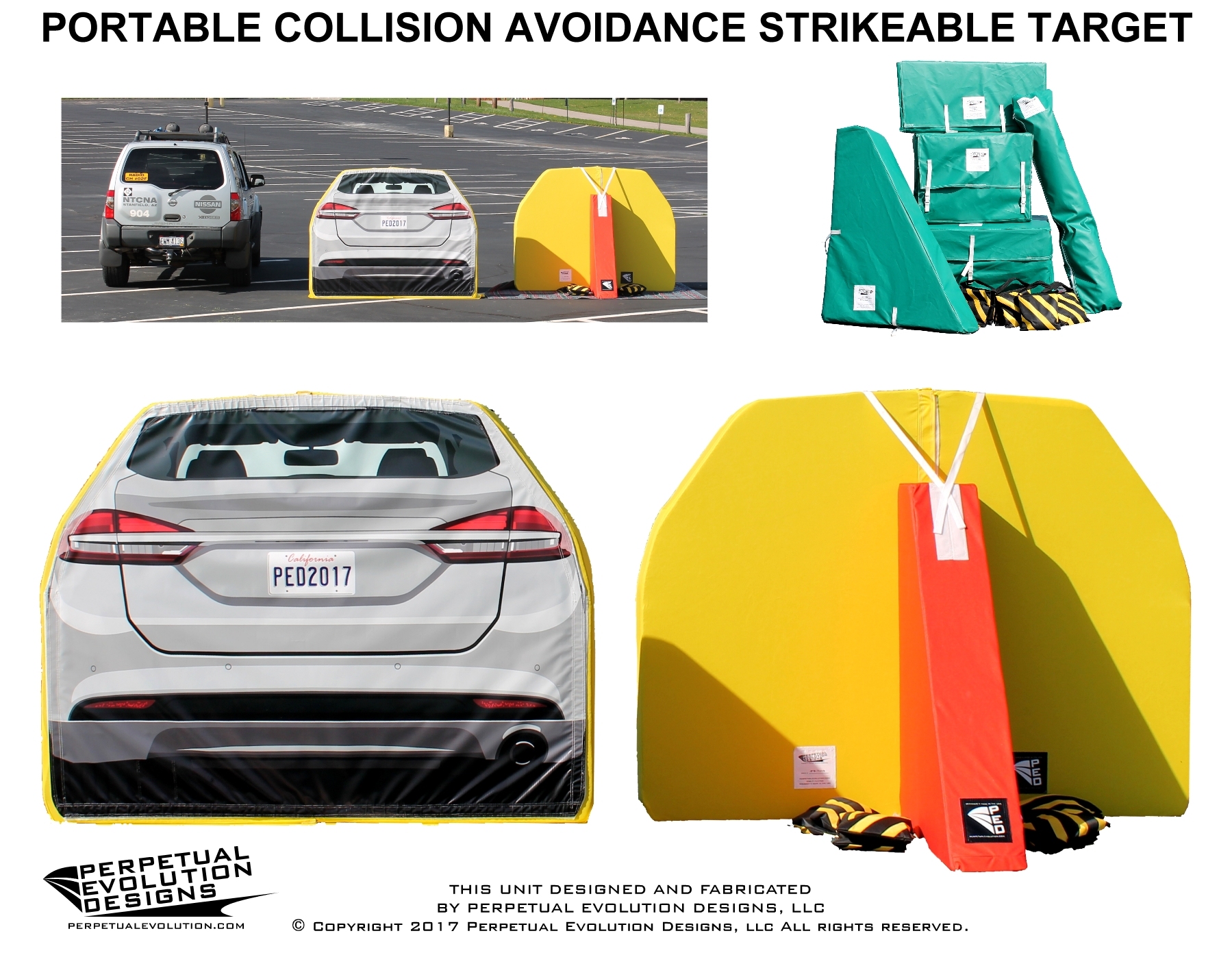 PED Strikeable Target Vehicle - Autonomous Braking Demonstration Unit developed by Perpetual Evolution Designs - KENT, OHIO tel: 330-714-4700

PED's Strikeable Targets were first developed for testing of Advanced Warning technology for the automotive industry. The PCAST VFF (Portable Collision Avoidance Strikeable Target: Vehicle: Ford Fusion) units are now being made available for demonstration of collision avoidance & advanced braking systems also known as AEB ( Automatic Emergency Braking.)

For the first time, manufacturer grade test equipment is now being made available to entities outside the typical realm of clients who buy and test with this technology. These units are being produced and released to the public in an effort to bring awareness to the increasing safety options available on new vehicles. This technology saves lives and when demonstrated first hand, is often jaw dropping. The only way to truly appreciate it's capabilities safely, is to make an approach towards a strikeable target that is safer than having a possible collision with vs a real vehicle.

The PCAST VFF strikeable target is constructed using materials that allow it to replicate both the RADAR and visual return of a real car. Proprietary RADAR panels are embedded to produce a RADAR return signal that matches that of an actual vehicle. A digitally printed panel with artwork that resembles a vehicle, works to convince the camera that there is an actual vehicle in it's path. The material covering the foam frame is a 10oz Vinyl Coated Nylon. This durable fabric is highly resistant to abrasion.

This combination of an authentic RADAR and visual return, creates a realistic, yet strikeable vehicle for crash testing and demonstration when using a two part system consisting of RADAR and Camera systems. The on board RADAR and Camera systems in the vehicle being used to approach the target must work together to build a confidence level determined by preset algorithms. Once both systems reach an acceptable level of agreement (predetermined by the manufacturer), the vehicle's braking system will engage to stop short of the target or drastically reduce the collision speed.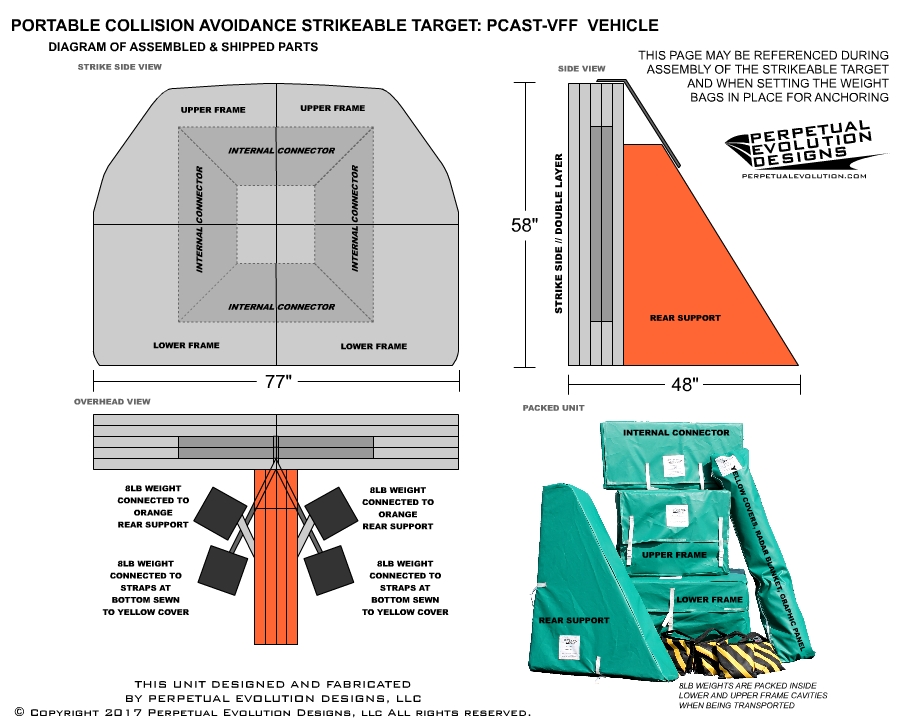 The intended approach speed for demonstration purposes is 20MPH or 32.2KPH. We strongly recommend NOT exceeding these speed when performing demonstration approaches on the targets. The frame of the PCAST VFF is constructed from a laminated foam material that's significantly more forgiving to collide with. The intention of this unit along with the driver assist technology, is to NOT hit the target. Striking any object with a moving vehicle poses the chance that some damage may occur to the vehicle.

The approaches in this demo video were done at 33MPH by a professional driver on a closed course. All demonstrations and uses of this product should be overseen by a professional driver in a closed, controlled environment. The speeds seen in this video were carefully obtained by climbing to 33MPH in small increments.

ALWAYS WEAR A SAFETY BELT DURING ANY OPERATION OF A MOTOR VEHICLE.

These units are available for purchase by dealerships, universities conducting studies, NHTSA, IIHS and other independent laboratories. They are manufactured in Ohio by Perpetual Evolution Designs, LLC. This unit was developed and fabricated in Cuyahoga Falls, Ohio and then rigorously tested in Dearborn, Michigan on a closed course with a professional driver & automotive safety engineer.

Two variations of the PCAST VFF are offered. A standard kit includes the Strikeable Target Vehicle, rear support and weight bags and is shipped to a location where the Strikeable Target will assembled and will remain assembled, even during storage. An upgrade kit is available that includes transport bags for each part of the kit while in an unassembled state. This upgrade makes loading or shipping the Strikeable Target easier for traveling demonstrations or for shipping the unit between dealerships or testing locations. The transports bags are constructed from a rugged 10oz vinyl that offers not only protection but also a tidy solution that helps make carrying and handling the unassembled unit on site easier.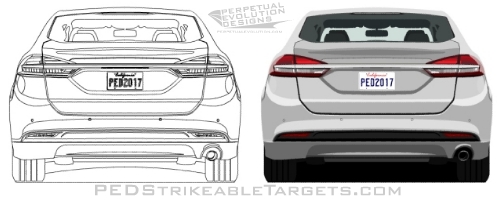 The PCAST VFF is modeled off the 2017 Ford Fusion. The digital print panel that contains the artwork and vehicle image is fastened to the fabric cover using 2" velcro. This panel can be modified in several ways including the color of vehicle, license plate state and vanity tag. We also have the capability to replicate other makes and models if your project, event or dealership would like a particular style of vehicle. Vehicle changes are subject to an increase above the base price.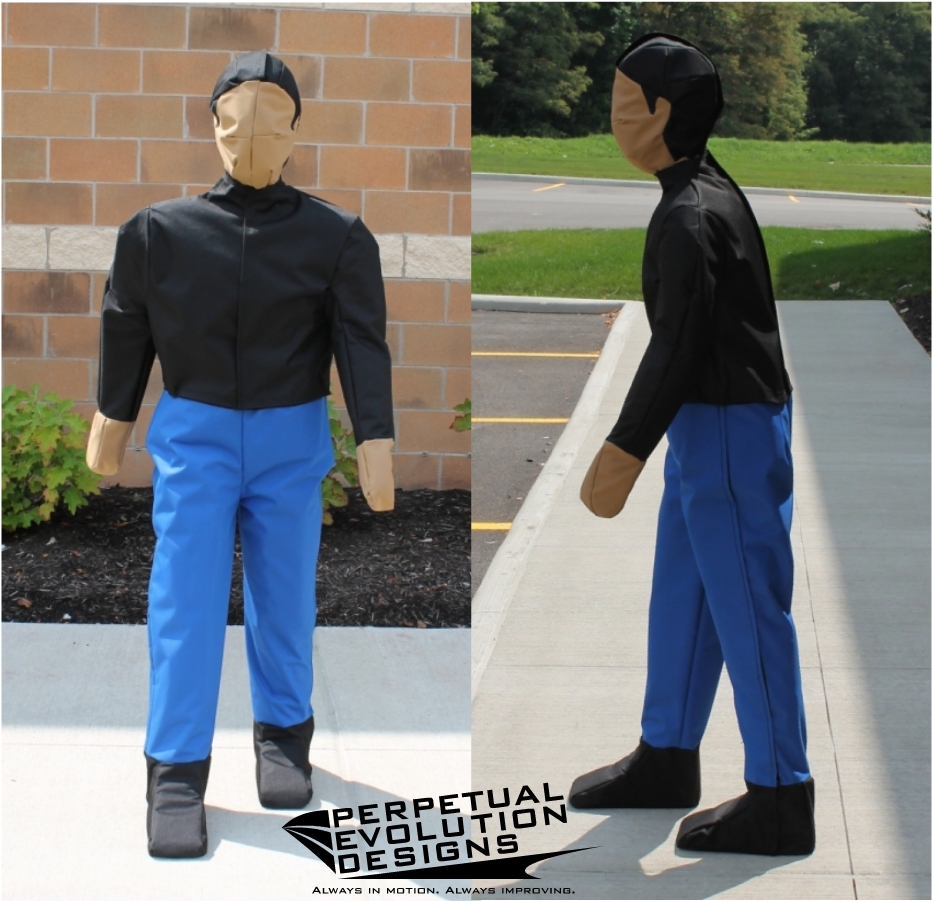 Perpetual Evolution Designs also offers a full line of Strikeable Pedestrian Dummies.

The dummies are available in multiple sizes ( toddler, child and adult ) and can be made in either a static pose or as poseable figures. The poseable line of dummies has a rigid structure that allows the arms and legs to be adjusted for different stride positioning. These can be equipped with metallic foot pads that are compatible with standard testing units that utilize super conductors for last minute magnetic release.
Strikeable Soft Targets for AEB, Collision Avoidance & Autonomous Vehicle testing and calibration can be made in shape or size. Seen here are fabric over foam pillars that replicate both brick and concrete structures. These are also equipped with quilted metallic material that ensures the static target also has a realistic RADAR cross section.

In addition to fabrication of strikeable objects, we also design and fabricate portable scientific measuring devices for documenting sensor placement and other critical measurements while on the test track or in the shop or lab.

These devices are typically fabricated from aluminum extrustions and outfitted with laser measuring devices.